Dear participant,

Welcome to VU! Our school offers a world of global learning and achievement. We will be your partner in business networking, corporate mobility and entrepreneurial initiative. It is our aim to support you in today's challenging competitive environment and lead you to tomorrow's opportunities.

As a participant in the VU programs, you will become part of a caring yet challenging learning environment. The ultimate goal is academic and professional fulfillment as much as individual competency enhancement. You will be working in close partnership with the recognized business community of Switzerland, the Swiss finance and manufacturing industries as well as Swiss-located international organizations.

VU is committed to provide you with a unique and unsurpassed experience. Are you ready to join this exciting trip? I certainly look forward to meeting you here.

I welcome you to VU.

Sincerely,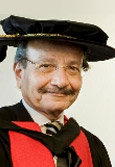 Prof. Dr. M.S.S. El Namaki

Dean

Prof. El Namaki is the founder and former Dean of the Maastricht School of Management (MSM), Maastricht, in the Netherlands (1984-2002). El Namaki has developed and introduced management degree programs (MBA, EMBA, DBA and PhD) into no less than 25 countries including the Netherlands, China, Egypt, Brazil, Poland, Canada and Indonesia. His MSM MBA program in Changsha, China was the first in the country. El Namaki did consultancy missions for several international organizations like the European Union (EU), The World Bank, the United Nations Development Organization (UNDP), and the International Trade Center (ITC).

El Namaki graduated with an MA from Erasmus University in Rotterdam. In 1977, El Namaki successfully defended his PhD thesis at the Free University of Brussels. He also did an Executive Program at MIT in 1982.

El Namaki assumed executive positions within Philips (Eindhoven), McKinsey (London and Dar es Salaam) and Time Inc. (Amsterdam). He consulted and delivered executive seminars on a wide scale and his clients included Fortune 500 companies like Dupont, Philips and Pepsi as well as landmark national corporations as China Pacific Insurance Corporation CPIC (Shanghai), Eastern Tobacco (Egypt) and Abraaj (United Arab Emirates). He has published 6 books and more than 70 articles. El Namaki,s book on "Strategy and Entrepreneurship in Arab Countries" was published in March 2008.